We all live for moments that melt our hearts and cloud our vision (in a good way) and make us question our senses.
Those come once in a blue moon, but these right here, melt in your mouth, every single time(: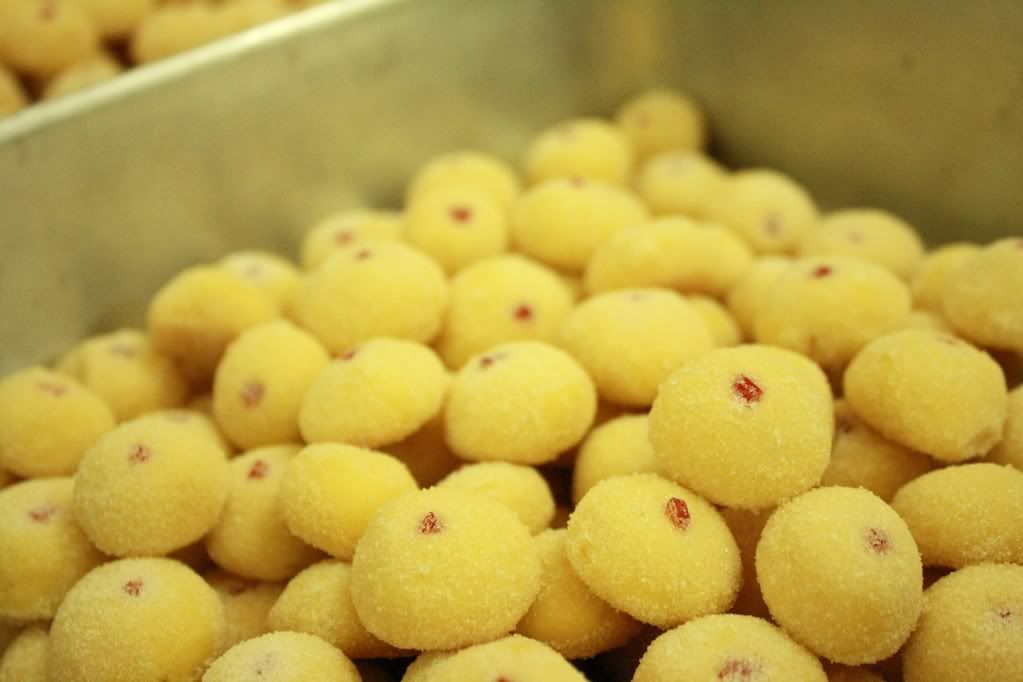 My special love for things to do with the oven ultimately started with this tiny little ball of butter and sugar. And the many stories behind this little ball, is what makes out a good part of my childhood. Some things in between the growing years of primary school just get lost amidst growing up but other things like this, never gets erased. Every year, whenever Chinese New Year rolls around, whenever it was (because as a kid, I never understood why CNY falls on different days every year until maybe about upper primary I would think), blocks of butter, bags of sugar will always find its way into our fridge and mum would go on these baking sprees, making bottles and bottles of new year goodies. And this is always the first of the many batches to come.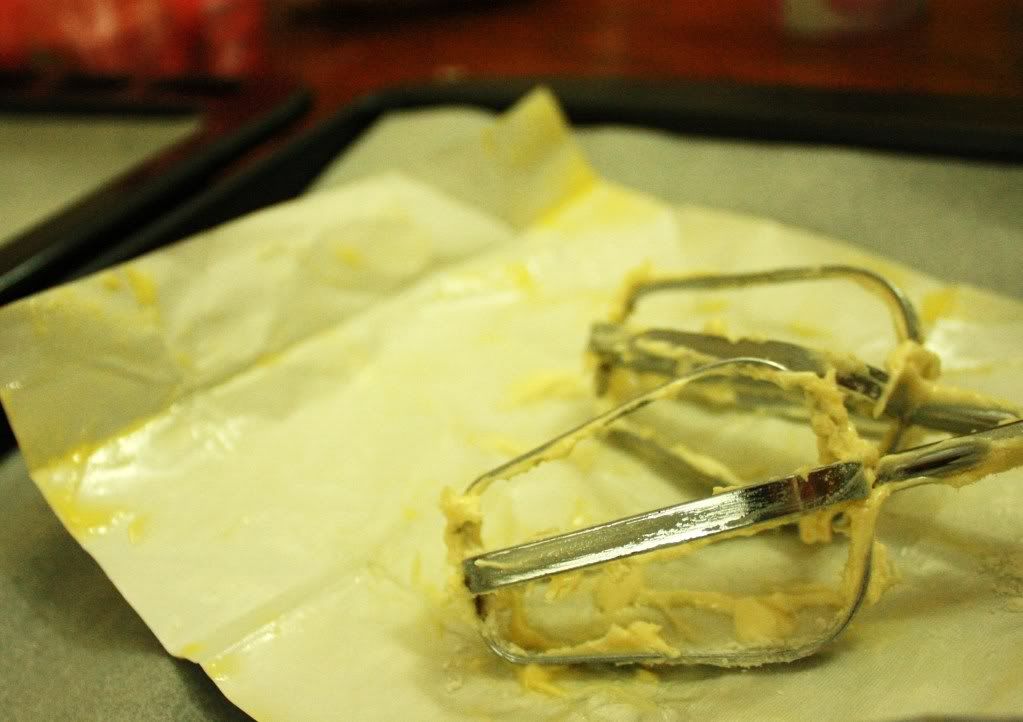 She would roll these tiny balls of all equal size very meticulously and lay them out on baking trays and every 20 minutes the house would be filled with the buttery aroma and people would try to steal the tiny things off the hot trays for 'tasting' purposes. I used to always be asked to 'stand far away, hot tray coming through' or 'don't touch the tray, VERY hot!' now I get to roll the balls of dough, bury them in sugar, press the cherries on top and even take the tray out of the 180 degree Celsius oven. Does this mean I've grown up? I think so!(: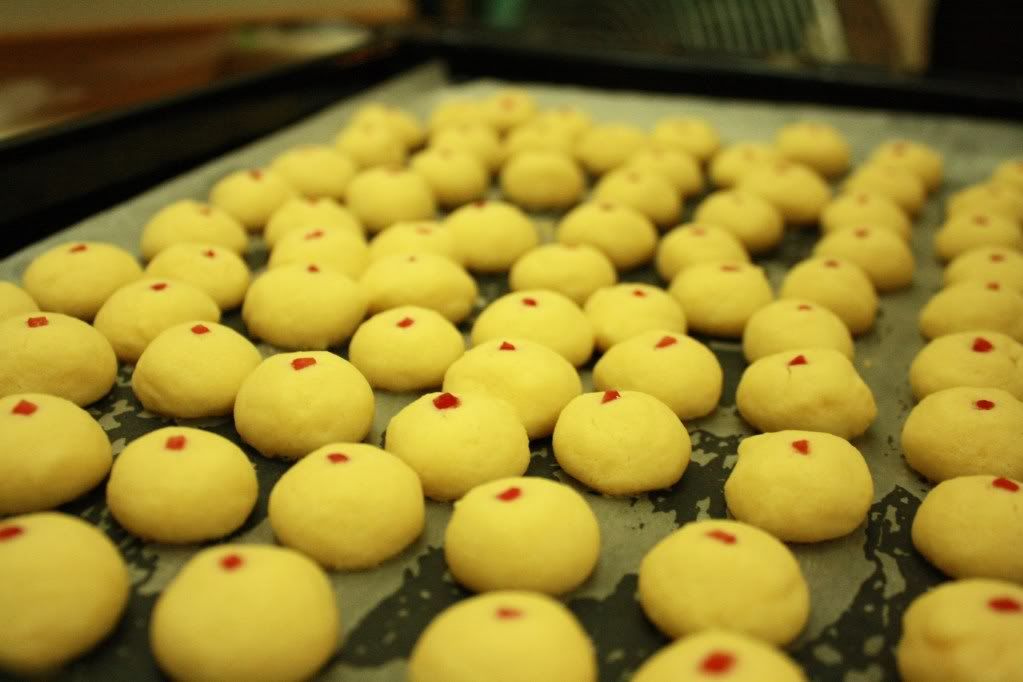 This cookie has been through many many alterations and trial and errors. It used to be x amount of flour to butter and Y amount of vanilla extract and Z amount of baking time at Q temperature. But over the many new years, the recipe has been seemingly perfected to create the consistency of this cookie that literally, melts in your mouth, hence the name. And after eating one, it's so small that you just want to put another and another and another into your mouth. And after 2 hours of American Idol on tv, cookie damage: half a bottle (or possibly more if you don't realise and gape in horror somewhere about the third commercial break).
If I had to link a cookie back to my kiddy days, this would be it, along with the memories it brings. And the fact that I would always roll cookies of uneven (ball) sizes and mum being a mum would casually sneak the one I rolled (uneven sized) and re-roll it again and place in the army of other cookies that can't really be differentiated from. There-in not hurting my feelings of my cookies being re-rolled. Mothers are pretty great that way, aren't they.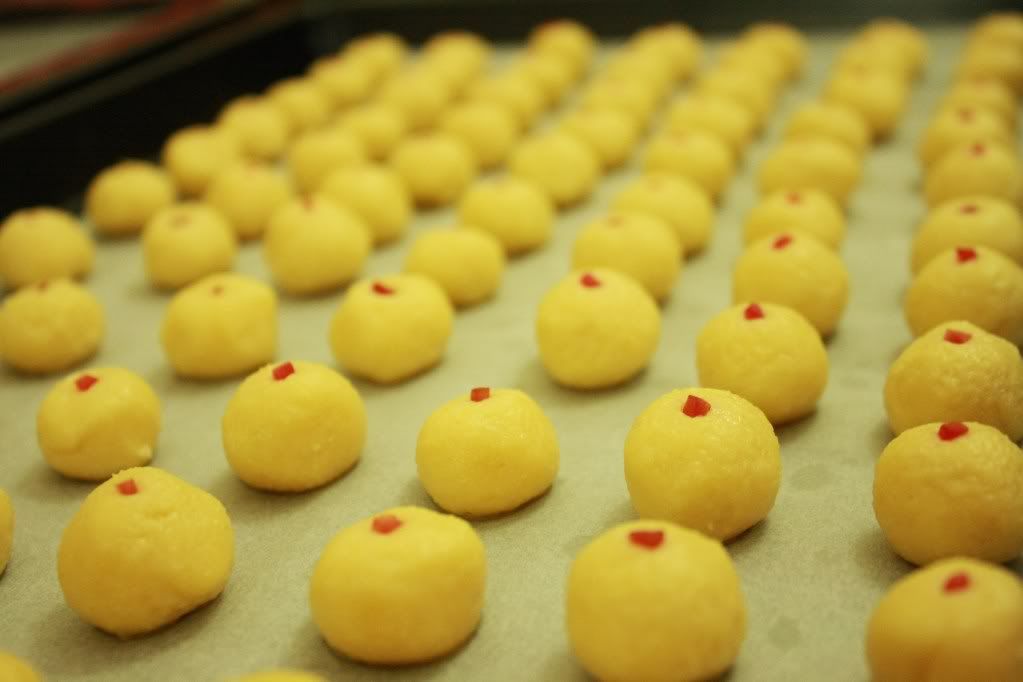 And I guess this would be one of those recipes people (and now I) would call, my mother's recipes.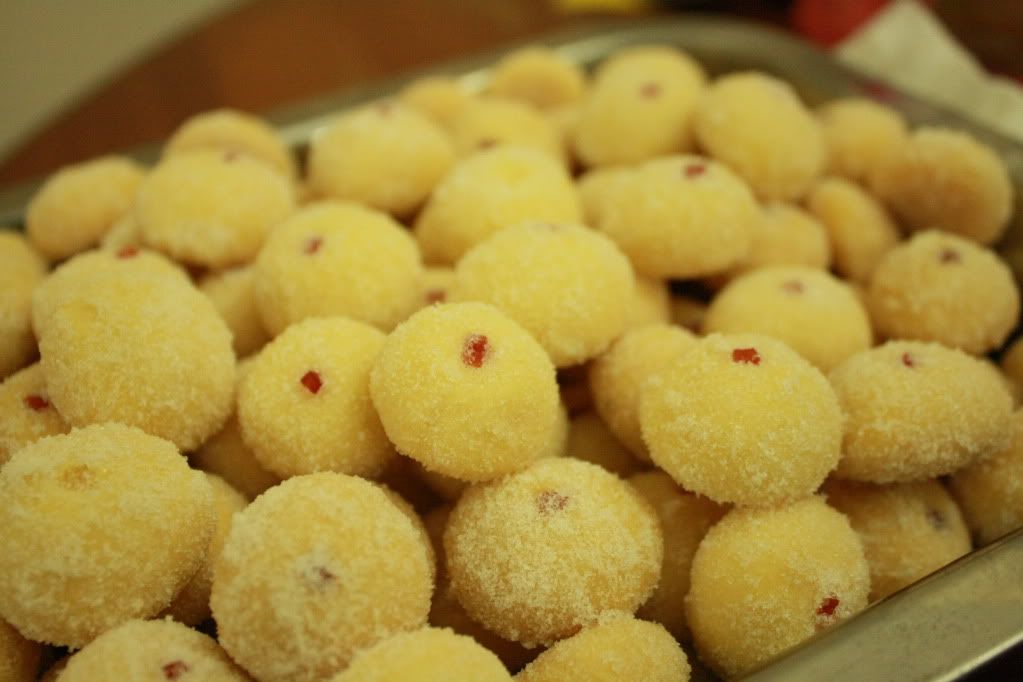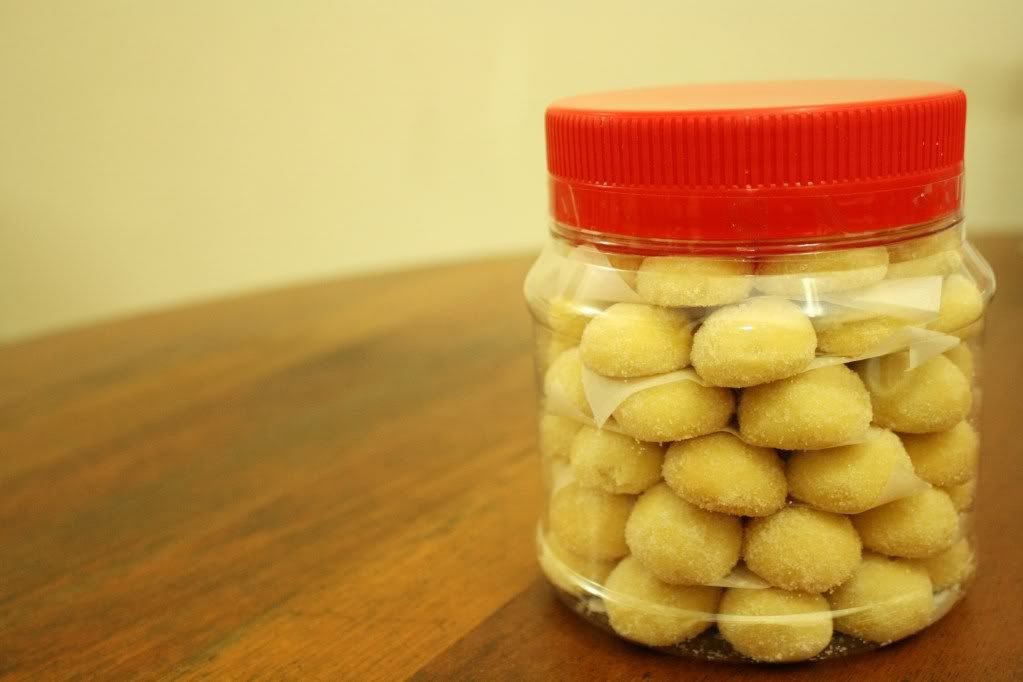 Bottled and ready to go!
ps: the recipe makes 6 of these bottles
Melting moments

(makes about 6 bottles of cookies or about 480, diameter 2cm cookies)
Ingredients:
- 2 blocks of butter at room temperature (500g or 4 sticks)
- 24 oz AP Flour (12 oz for every 2 sticks of butter)
- 2 tbsp vanilla essence/extract (1 tbsp for every 2 sticks of butter)
- Diced preserved cherries (for garnish)
- Castor sugar for rolling
Directions:
1. Cream butter till pale, light and fluffy
2. Add in vanilla essence and mix till incorporated
3. Sift in flour and fold in flour 1/3 at a time so as to incorporate flour evenly
4. Continue till all the flour is folded in
5. Pinch a small amount of dough (the size you want your cookie, these won't rise in the oven) and roll into a ball
6. Place a single diced preserved cherry on the top for garnish (be sure to press it in halfway or it might drop off
7. Place in preheated oven of 170degC or 340degF for 17-20min or until bottom is slightly browned. The top will remain relatively pale. Cut open a cookie to see if its baked through and remove from oven.
8. Leave to semi-cool before rolling in castor sugar to coat cookies
9. Let cool completely after that before packing