I WILL WRITE A POST TODAY!!!
Hahaa it has come to such exclaimation and forcing contract on my part to make myself sit down and type out a post. Actually I have much to say, mostly in-between whines and fears and a few gripes.
It's exam season friends!
An entire year of academics have come down to this. Do or die.
DO.
There is no room for error. Now that its put that way, its like baking a cake or an order of cupcakes for birthday parties, you can't have a restart. Somehow that just feels different although it's somewhat along the same do or die lane.
Now let me summarize my day, this should be quite easy, because it's so routinely boring.
But kinda necessary. And slightly self-informing as well (more on that later)
(First some of Mickey D's latest temptation, Cinnamon Melts)
(Now I have this crazy urge which I will suppress, to go bake up a batch of pioneer woman's legendary cinnamon rolls)
;but that has to wait):
(heh it looks like mold growing but I assure you its 100% cinnamon-ny goodness)
Mad loveeeee!
I face the hardest part of the day first - Waking up.
After I pry myself from the evil grasps of my blanket or torture myself by not drawing the curtains and letting the 'too-bright-for-sleeping-in' sun wake me up, I make some breakfast and dont enjoy the liberty of watching silly morning tv (for the fear of never getting out of the house; it happens). These days I dont even conjure up yummy breakfasts, its just a pb sandwich or a chicken, cheese and ham wrap when mum makes chicken spreads for me.
Mostly pb sandwiches.
I'm a pb girl, through and through. Now if only I had the super cool kind of nut butters people in the States have. Safeway, walmart, walgreens COME TO ME!
Sometimes I cheat on pb with nutella. Somethings can't be helped. Teehee.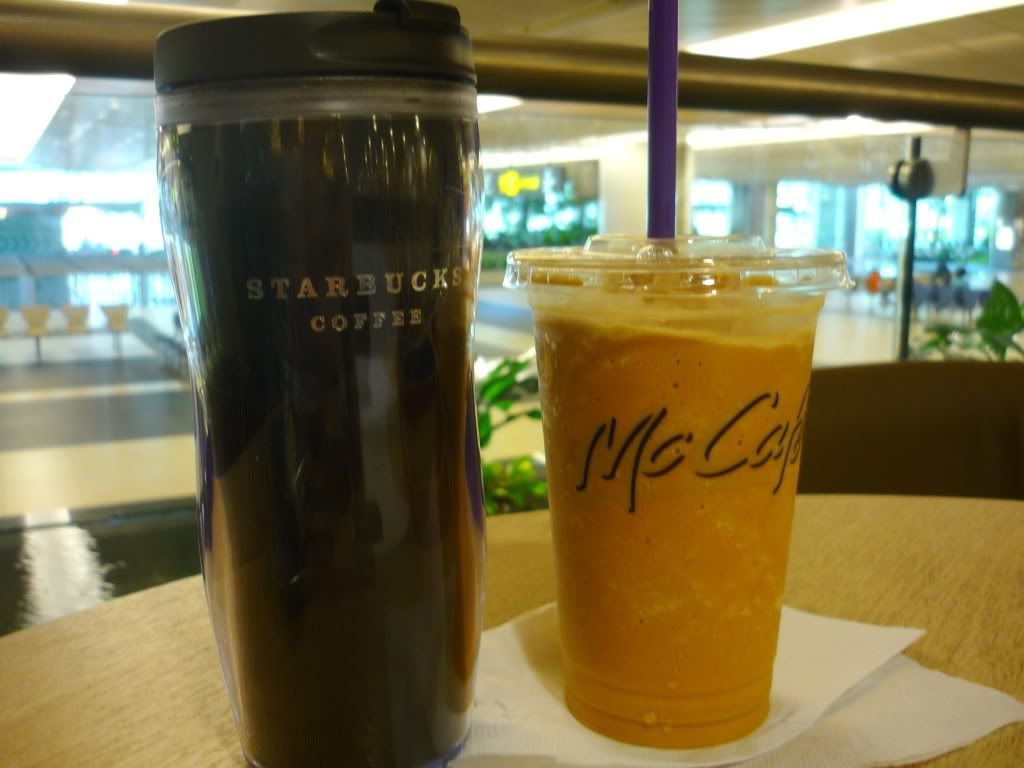 Then I get my ass to the airport not because I'm flying off anywhere but because its 20 minutes away, wifi-equipped, food-equipped, and awesome place to study. No day and no night if you sit in the right places.
Starbucks used to be my haven. Then other people decided it was theirs too.
buggers
!
Plus I love their coffees, but that's already a given.
Then I took it one level down to, sad to say, mcdonald's. Buy a cuppa (plus they have buy 3 drinks get 1 free) and park myself there for a good part of the day (and night) and have my revision notes, a ton of practice papers and a roomful of strangers for company.
I like studying alone, sometimes. I get (more) things done.
And somedays I need my friends. People keep me sane. Like I said, self-discovery, I think the best way to torture me would be to not give me anyone to talk to. I need people. I need to talk, laugh, poke, disturb, people.
Without those, I think a part of me dies inside. serious.
Yeah technology helps a little, staying connected with people virtually but I need tangible human contact. I guess everyone needs it someway or another. I just need it more.
Even the yummiest of food doesnt replace the lack of human presence and good old plain friendship.
Friends > Food anyday!
But
Friends + Food
, that's a whole different level of awesome(:
(And this is what friends do when they get bored and get hold of cameras, they swirl them around)
(And toss them around! nooooooooooooooooo! hahahaa)
So recently I've had a few awesome eats all revolving around levels 1 and 2 of T2 of the airport, cos that's where I hide out haha.
And ever since a certain fateful day in Little India I have been going around maniacally trying Indian Naan at every indian joint I see, and getting disappointed more often than not thanks to too high expectations fed off the first naan fest. lol.
I usually don't like Indian food.
Wrinkle my nose at my brother's favourite Masala Thosai. Seriously, what's so nice about soured dough thinly pressed and filled with beans and meat!
That was uptill I found this place called
Ananda Bhavan
. And there's an outlet right above starbucks at T2. I think its been there since forever but I was just ignorant about its existence until Little India educated me otherwise.
(#1 and #2 of Indian desserts. Half-eaten whoops heehee. Left: Jangiri. Right: no idea, lost the receipt lol)
Usually the naan is awesome to the max especially cheese naan! And the plain thosai, to perfection. Well, there was just this once....
My educated guess was he was hitting up my naan order while trying to tie up another guy's order, using everybody's favourite household equipment.
*drumrolls*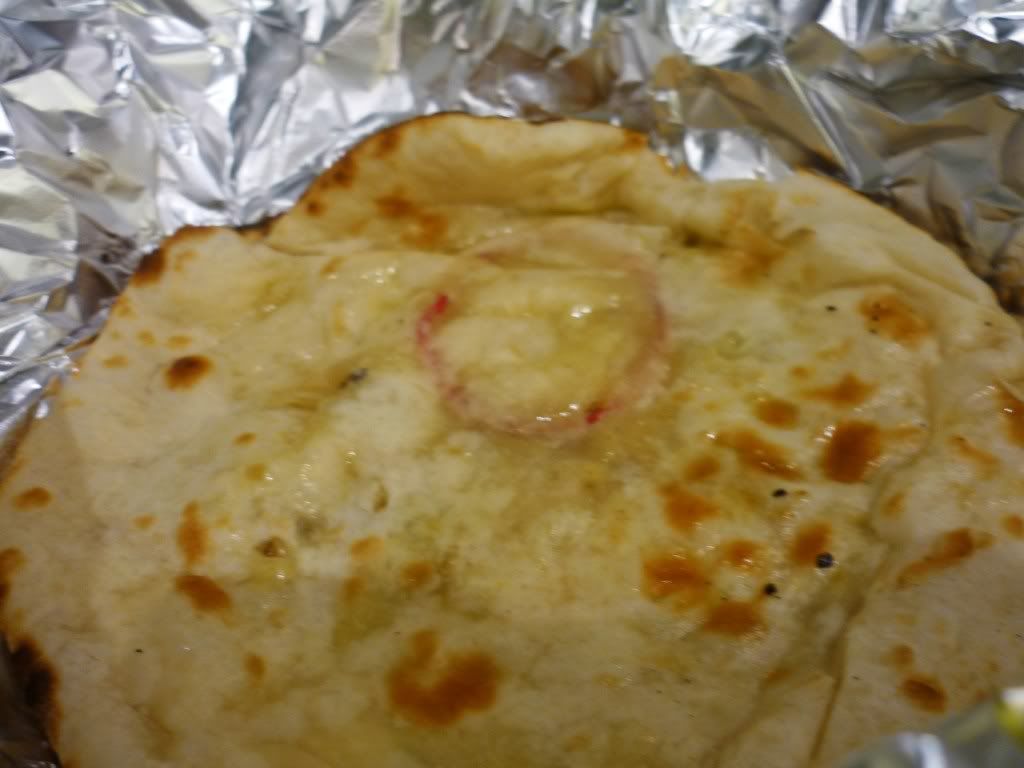 (Spot the abnormality(;)
The Red Rubberband.
Well the look on the guy's face was quite awesome when he realised (in horror) what he put into our naan. Now I've a new indian friend who's especially nice to me when I eat there, forever offering me free drinks and being of awesome service. Heh.
Plus, I've officially become a fan of indian food, and indian dessert.
The ananda bhavan kind.
Although I really have no idea what I'm pointing to or about to order, or even the name (until I look at the receipt after I've ordered), the success and yumminess of the first ever dessert tried have prompted me to give all the others a chance to prove themselves yummy or otherwise.
Lets just say the second and the third didnt disappoint either. But my
indian dessert friend
would like to testify otherwise. I promise it tastes like milk chocolate, with a little taste of milk powder-ish kinda feel. You have to love milk and all things dairy and
SWEET
to love this.
And I think all things white are made up of the same milky-powdery taste.
(Check out my mega thosai, it was sooo big!)
Indian dessert, I will conquer you! hahahaa okay maybe not all but this is definitely not the last you'll be seeing of indian food.
Dinner was a one-person affair in which I had some temporal company in the form of the indian waiter to talk to and I think we would be good friends by the end of my airport studying stint. Heh wait and see. He still keeps offering me free drinks for the rubberband mishap hahah!
I had
Gova Laddu
(below) for dessert and one giant plain thosai. Awesomeness.
Think I will never eat thosai anywhere else ever.
Its quite chill to sit there, eating thosai with my hands, examining the dessert and hoping its nice cos theres no one to force to eat it if it disgusts me. And just not thinking about school and papers and essays and formulas.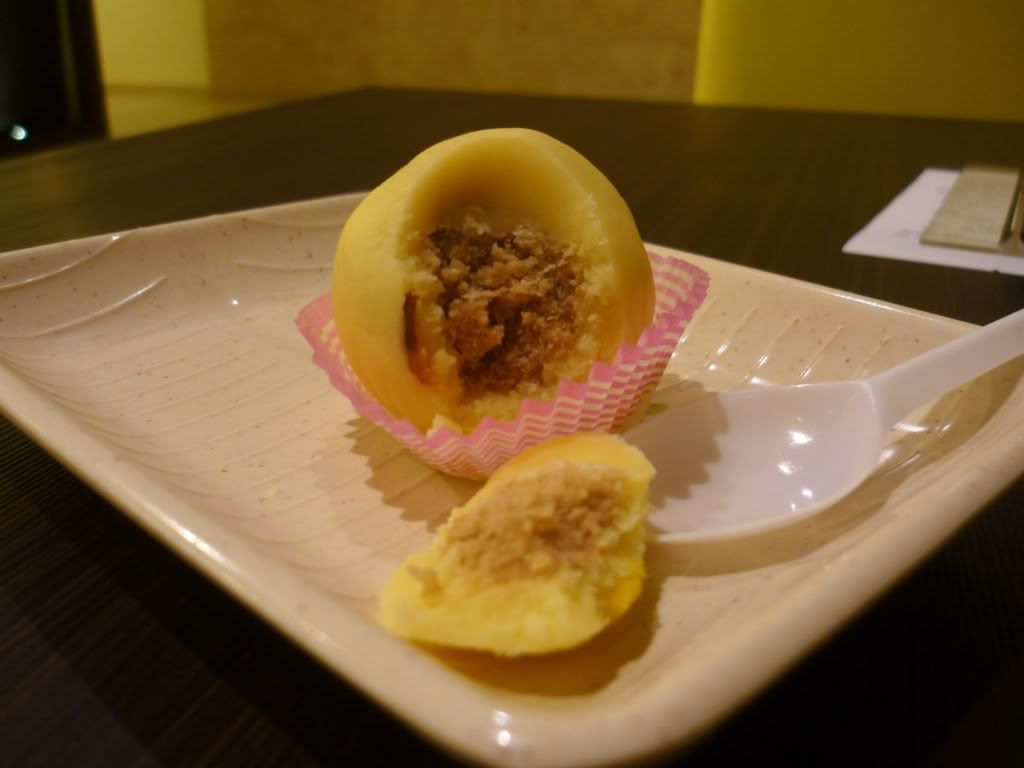 (Coconutty interior)
Dont be fooled by its tiny ball size, even a sweet tooth like me felt the need to down my starbucks tumbler of water after that. And of course after that comes the unescapable sugar-high which I channelled straight into a 4km run. Best run in a long time wheeeeeeeeeee!(:
Oh and as if the outer-shell milk chocolatey coating isnt sweet enough, inside is coconut!
Not the orangey chinese coconut that you see in peanut pancakes but this was grey-ish. I didnt even know what it was until I bit into it. Or rather cut it rather pathetically with the plastic spoon that threatened to break on me anytime.
But I kinda appreciated the sugar-rush(: Put me in a pretty good mood until the adrenaline-endorphin rush took over.
What can I say, I'm a junkie hahaha, in the most natural and healthy way ok!
Eeeep after the promise to blog twice a week and then the uncalled for hiatus, I think nobody wants to read this anymore): ):
I'll be better, baby steps, baby steps.
20 May please come quick, but please let me finish revision to the best of my ability and capability first! What an oxymoronic life I lead.
(hard at work okay!)
*This post is dedicated to my Indian dessert friend, otherwise which this entry would not be penned today and further procrastinated, but now I'm glad I did it. yay
Omg 5 days till I turn 21 and nose deep in papers, ink and clear folders.
INSERT SAD FACE HERE.