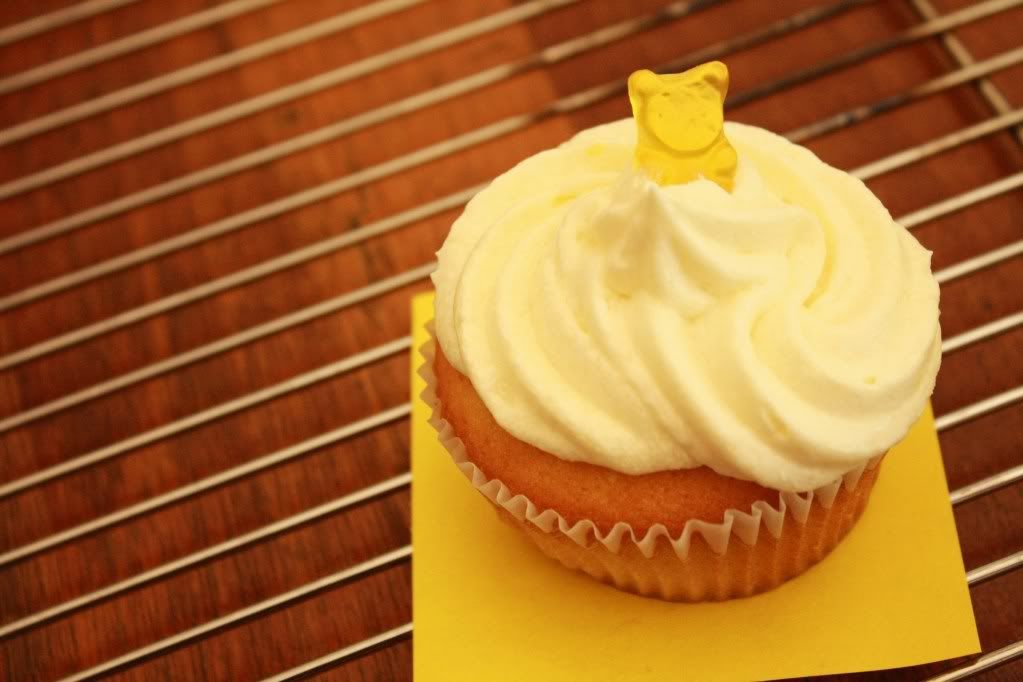 Nobody in my family particularly uses lemons in any cooking dish or drink for that matter. Apart from me having this tiny thing for lemons which comes in waves, my family just don't really have much affinity with sour things and what nots. But somehow we always seem to have lemons in the veggie compartment. So whenever I see them (lemons) sitting in the fridge, being tossed around in the midst of people looking for other more sought after fruit or vegetable, and (literally) being left on the shelf, I kinda feel a little sad for them. Not fulfilling its fullest lemony, zesty potential.
Finally one day when we find lone lemons, pale, shrivelled, and squashed under the more popular oranges and apples and even the odd grapefruit, we just throw the lemon out.
So when I eyed five lemons in the veggie compartment, I decided to keep tabs on them, one day passed, two days, then five, lemons still untouched! Okay that's it, its time lemons came out to play. Plus I was supposed to make another birthday order as a present midweek but really didn't have the time, so maybe this would do. (Anyway, it ended up being breakfast some days and in the brother's and cousins stomachs)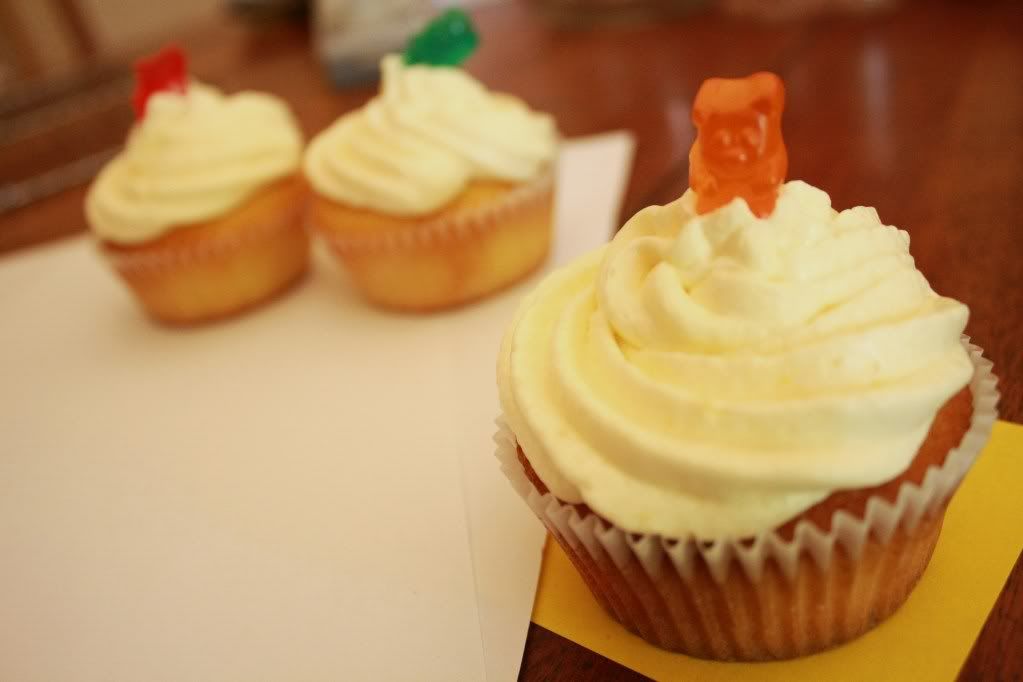 After the past cupcake success recently, was pretty psyched to try out new piping tips and cupcake flavours, so lemon cupcakes it is! Initially wanted to go with lemon cream cheese frosting but decided it was time I learnt how to make successful, non-droopy, good old buttercream frosting. Lemon flavoured of course.
I don't love lemon as a fruit but I do love it so in all other forms, juice, cookies, cakes, tarts, frosting! (aw, who doesn't love frosting!). But one thing I really don't like about recipes with lemon is that it almost always calls for its zest. Lemon juice
AND
zest. Yep I get it that it doesn't waste the lemon but zesting! is a rather scary thing for me.
I used to use this tiny palm size grater that had teeth (grate) down the middle and I get that lemons don't really like to get zested cos they squirm in your hand and try to squirt juice all over you while trying to ooze out that 1-2 tbsp of lemon juice that the recipe calls for.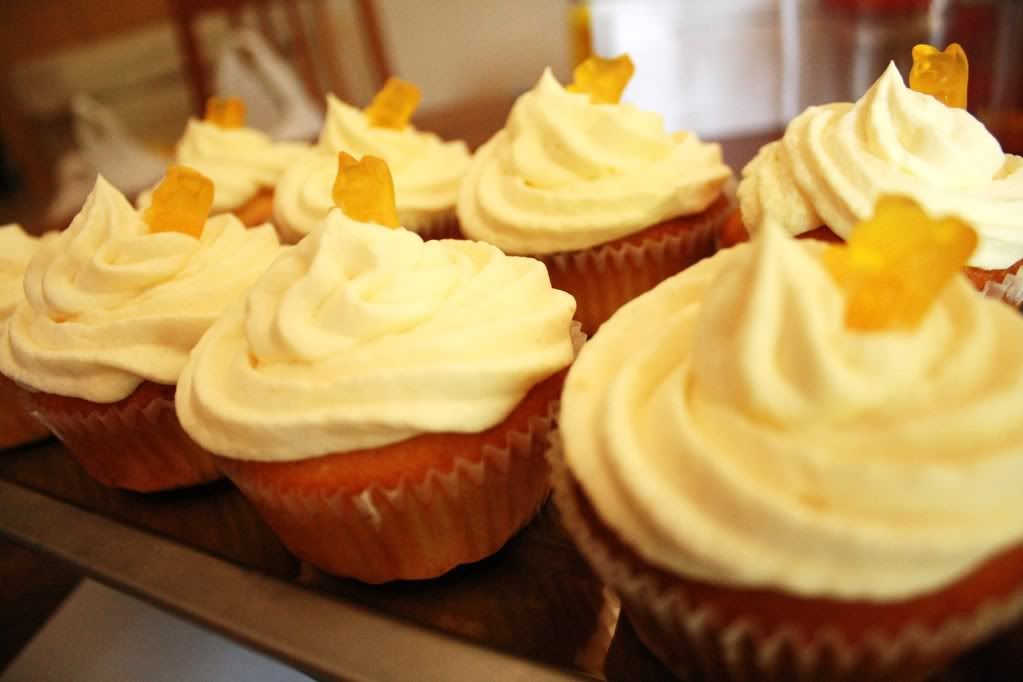 So you see, tiny palm grater + squirmy lemon doesn't exactly equate a nice zesting experience and it also almost always end in me getting a certain part of my finger zested. And always on the left side of my right index finger nail. Always. The. Same. Spot. Granted that I don't have a very sharp zester, and maybe my thick skin, eep! I don't draw blood but its like a paper cut, icky and annoying.
Sigh, lemon zest, I don't really like you much!
Oh and getting a bigger zester like I did didn't help much either, bigger zester = more places to zest your hand! yikes.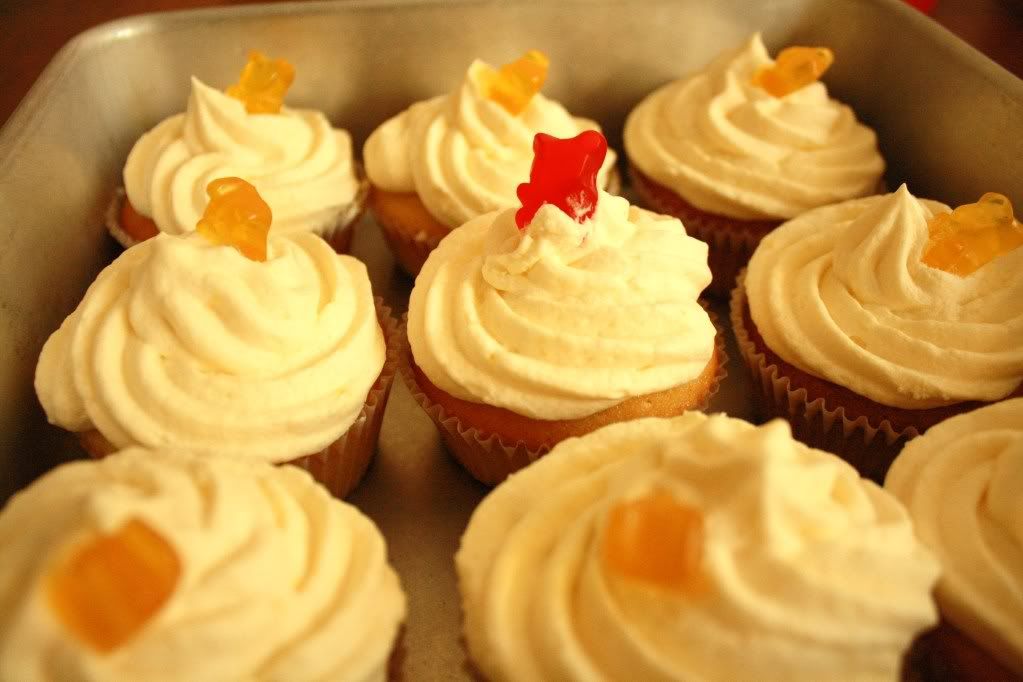 But I have to say the rest of the recipe came together pretty easily and the cupcakes turned out just perfect! Just the right consistency, not too sour, sweet, and perfectly cupcake-ey(: And as for the frosting, it was just okay-ish. Not the firmest of frostings to pipe, nor could it last as long as cream cheese ones. But still pretty darn awesome if you ask me in terms of taste.
Last but definitely not least, garnish, I read the recipe for the last time and Lemon Zest! Again! Of course I should have anticipated that initially but I was too excited in getting the zest into the cupcake mix that I forgot to leave to garnish. Not going to ruin another lemon and make it look ugly so I decided to use yellow gummy bears. They looked rather happy atop lemon cupcakes, you think?(:
ps: trust mothers to come up with solutions to all their children's problems. I might've found the solution to my zesting pains.
Me: I don't like zesting lemons! I always nick my finger!
Mum: Oh just stick a fork way into the lemon and zest it, no contact of fingers to zester.
Me: ohhh. Ahhhhh. *picks up fork and stabs lemon. Zest you sour little thing, zest.
And for now, I'm going to have my cupcake and eat it too(: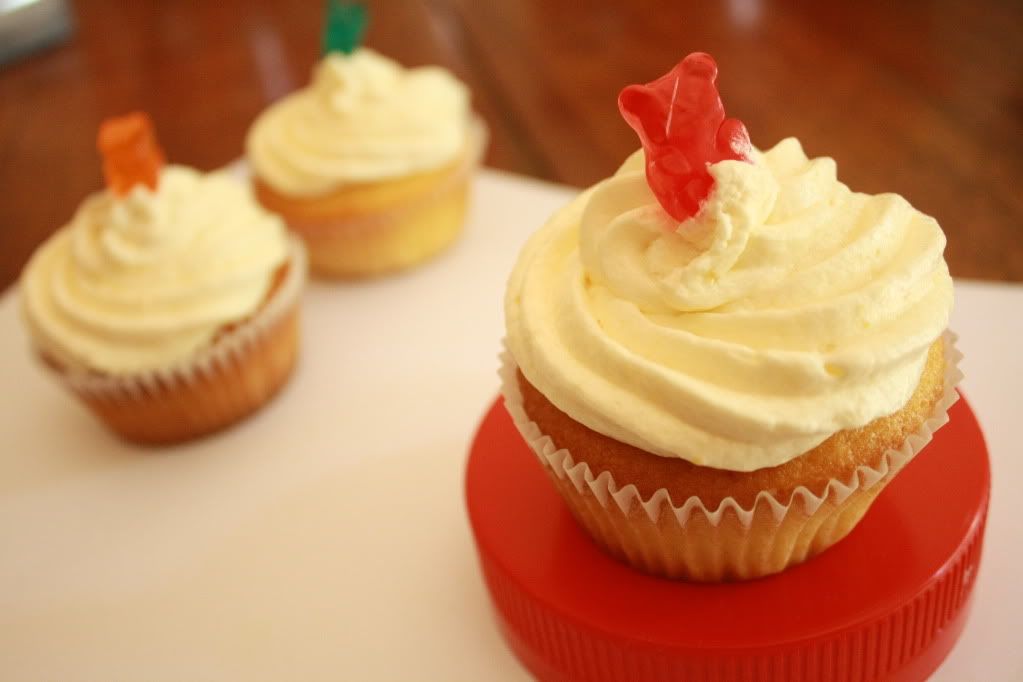 Lemon Cupcakes Ingredients (recipe from
www.chocolateandwhine.com
)
1 1/4 cups all-purpose flour
1/4 tsp kosher salt *
1/2 tsp. baking powder
1/4 pound unsalted butter, at room temperature
1 cup sugar
zest of 2 lemons
2 large eggs
1/2 cup buttermilk (1 cup whole milk + 1 tbsp lemon juice= 1 cup buttermilk
2 teaspoons lemon extract (I used lemon juice)
*can just use normal salt but because I used salted butter, I just omit the salt needed.
Instructions
1. Preheat oven to 350F.
2. Combine the flour, salt, and baking powder in one bowl. In another, combine the buttermilk and lemon extract. Set aside.
3. Combine butter, sugar, and lemon zest in large mixing bowl. Beat on medium-high speed until the mixture is fluffy and much lighter in color. (Beat well, at least 5-10 minutes.)
4. Add the eggs one at a time, making sure to fully incorporate the first egg before adding the second.
5. Alternate adding the flour mixture and buttermilk in the following order: add 1/3 of the dry ingredients, 1/2 of the wet, another third of the dry, the rest of the wet, and the rest of the dry.
6. Mix until just combined and finish with a spatula. (If you overmix after the dry ingredients are added, the cupcakes will not rise properly and the texture will be chewy and dense.)
7. Bake in the top third of the oven for about 20 minutes or until the tops are slightly golden and a toothpick inserted into the center of a cupcake comes out clean.Let cool completely before frosting.
Lemon Buttercream Frosting
Ingredients
1 cup unsalted butter
6 cups powdered sugar
1/3 cup milk
1/2 teaspoon vanilla extract
zest of 1 lemon
juice of 1/2 lemon
Directions
1. Beat butter until creamy.
2. Add 3 cups of the sugar and the rest of the ingredients. Beat at high speed for 5 minutes.
3. Gradually add the rest of the sugar, adding 1 cup at a time and beating for 5 minutes after each addition. Once all the sugar has been added, continue beating at high speed till the mixture is extremely pale, light, and very fluffy. Use immediately or cover tightly and refrigerate.