I bought a cookie jar
I've always wanted to own an old school, cookie monster-like cookie jar. Today I went out and got it. Limited myself to only buy two things at Ikea, if not, I probably would've walked out with armfuls of accessories. Bad.

I got the cookie jar, and cookie cutters. And made myself very happy.
Now, who likes an empty cookie jar, not me, and especially not cookie monster. So I baked cookies (yep, just for the cookie jar). It's been sometime since I had cookies around in the house anyway, although they tend not to last very long sitting around.

The usual chocolate chip cookie, oatmeal raisin (although I love these very much!) wasn't exactly calling out to me, I needed to try something different but was sure to guarantee awesome results. So I turned to oreos. How to mess up a cookie that contains another cookie right?(: Oreo cookie cookies, the name alone kinda already sounds yum.

Now this cookie isn't easy to make, for me. But..there's always a but, the hard part wasn't in executing the recipe, following the steps or getting the dough to come together. The hard part was tearing the bright blue packets, laying out the oreos in all their black and white glory and not eating them before they go into the cookie.
But I'm very proud to say that I didn't munch on a single one before it got out of the oven. After they come out, well that's a whole different story...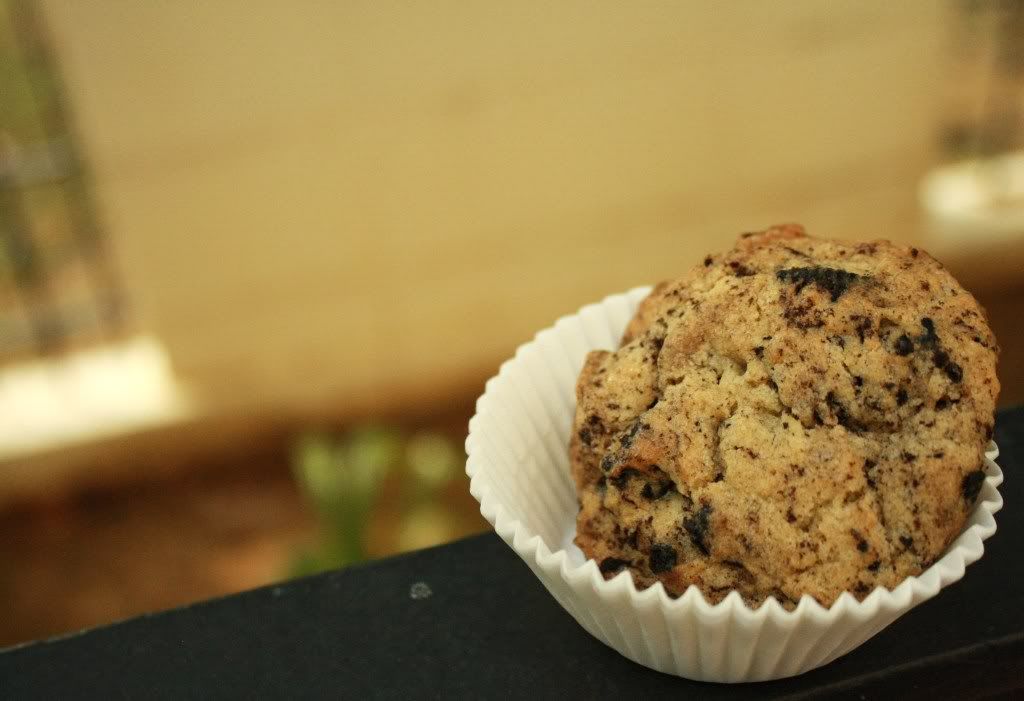 Well, I got one pretty sweet looking batch of oreo cookie cookies (heh I like how the name sounds) from this recipe and that's a great thing. But the not so great thing is that before I got to put my cookies-made-just-for-the-cookie-jar, INTO the cookie jar, they were all swiped. Ended up giving a good part of the batch to my very nice next door neighbour who came over for abit to deliver some CNY goodies (which include her crazy delicious pineapple tarts amongst some other goodies). Oreo cookies in exchange for pineapple tarts, okay! Although mum will probably make some of her own cny specialities later in the week to do a proper swap.

SO! The cookie jar still remains empty after all that. Crap.
But I promise, it will be filled! Cookie jars need cookies. I don't, but the jar does. At least that's what I tell myself anyway(;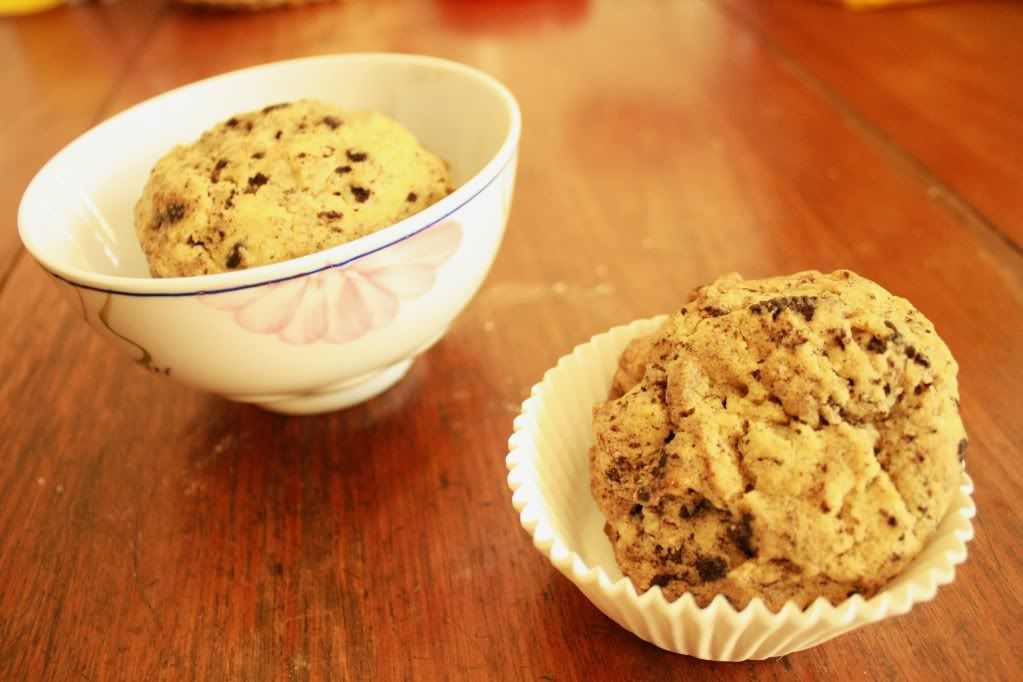 Oreo cookie cookies
Recipe - Makes 20 - 30 cookies*
Adapted from AllRecipes

2 cups all-purpose flour
1/2 teaspoon baking soda
3/4 cup salted butter, melted
1 cup packed brown sugar
1/2 cup white sugar
1 tablespoon vanilla extract
1 egg
1 egg yolk
2 cups semisweet chocolate chips
20 oreos, crushed

Preheat the oven to 325 degrees F (165 degrees C). Grease cookie sheets or line with parchment paper.

Sift together the flour, baking soda and set aside.

In a medium bowl, cream together the melted butter, brown sugar and white sugar until well blended. Beat in the vanilla, egg, and egg yolk until light and creamy. Mix in the sifted ingredients until just blended.

Add in the crushed oreos. Beat on low speed for just a few seconds to break up the oreos in the dough.

Stir in the chocolate chips by hand using a wooden spoon. Drop cookie dough 1/4 cup at a time onto the prepared cookie sheets. Cookies should be about 3 inches apart.

Bake for 15 to 17 minutes in the preheated oven, or until the edges are lightly toasted. Cool on baking sheets for a few minutes before transferring to wire racks to cool completely.

* I halved the entire recipe and got about 15, 2 inch cookies
ps: twist, lick, dunk still works for this recipe(;
I'll post a photo when the jar is filled, empty jars just dont like to be shown-off):