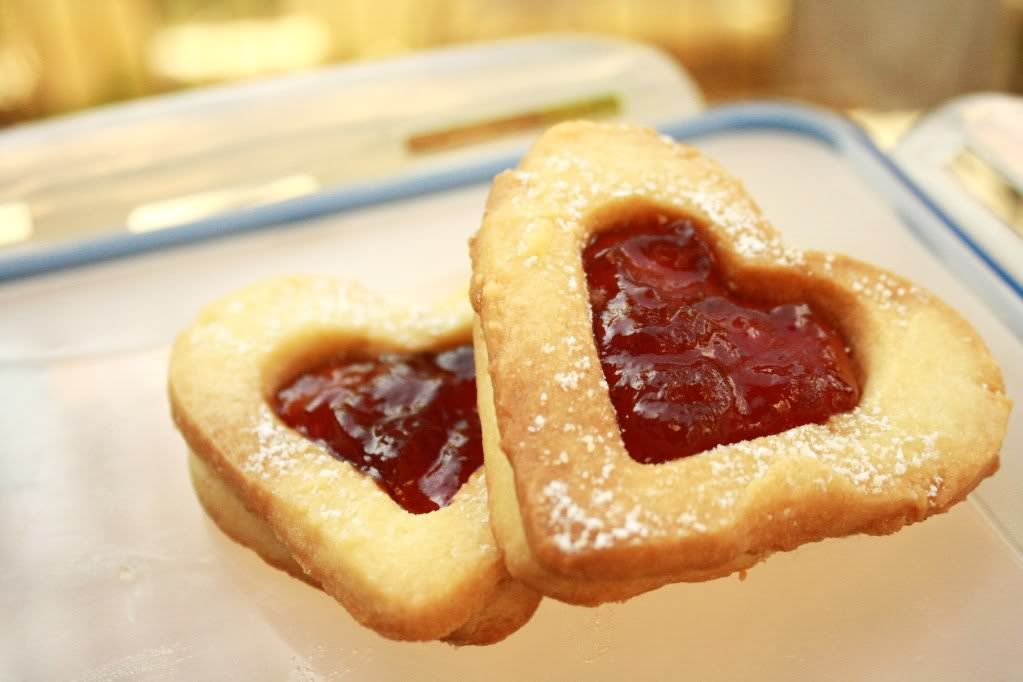 Seems to me I've been going to the airport pretty often. With people going for exchange, going off to study, sending them off at the airport seemed like the natural thing to do. Going to the airport to study doesn't really count, technically but it sure feels like I've been visiting the airport a lot these days.
Robyn's flying (or by this time, flown) to Brisbane to study and Basic Life is -1 member): Had sort of farewell lunch on Sunday at carl's jnr @ ecp and hanging out with basic life is always and will always be fun. Plenty of laughs, pokes and combining 'forces' to disturb people, ahh cell lunch is seldom a boring affair.
Initially the carls junior plan was supposed to be a ecp picnic but it kinda is a blessing that there wasnt any picnic after all. The sun was impossibly hot and I think we would all turn rosy pink if the picnic plan went ahead. Heat aside, there were also logistics like food to handle and Sunday is typically about chilling and not running around in the morning (before 0830 service) trying to assemble sandwiches. Not a very good idea.
But since I'd already pre-frozen the shortbread dough to make cut out cookies for the picnic, I decided that they shall not go to waste or sit for another week in the freezer, I decided to use the cute festive cutters that I got from trusty Ikea (they ran out of stock during christmas luh!): so I had to wait till now to get them). And I didnt even know they had a snail cutter amongst all the christmas animals (like moose, squirrel etc). Who even makes snail cutters! But haha I know robyn really dislikes 2 things snails and chocolates. So I decided to make her last few snacks in sg a little more, uh, fun(: I made snail cut-out strawberry shortbread cookies.
Snail cutters aren't all that easy to use, actually. And to find the right consistency of dough to work with cookie cutters is still work in progress for me. When I was cutting the dough, I had to put them back into the freezer about 23193819264173812 times to make the dough cold and hard enough to use cutters on. And the snail horns kept getting left in the cutter, effectively be-heading the shortbread snails): Plus to make 1 snail I had to do 1 base and 1 cut out, so that meant 2 snail cuts for 1 cookie. Rawrh. So actually I gave up after making 4, 2 sided snails. Cut the rest into hearts which were so much easier, and faster too. But its a good experience working with cookie cutters.
I seem to buy cutters a lot just cos they're too cute to pass up in the store, but never seem to have the occasion to use it. I shall aim to find the ultimate sugar cookie/shortbread recipe to press cut-out cookies from. And maybe learn to work with royal icing soon. So many things I seem to not know, hmpf.
Anyhow, the shortbread cookies turned out pretty yummy and pretty looking too with the strawberry jam (or whatever jam you prefer actually) in the middle.
Bye robyn, have fun down under! See you in 4 months, no more snails next time, promise!(: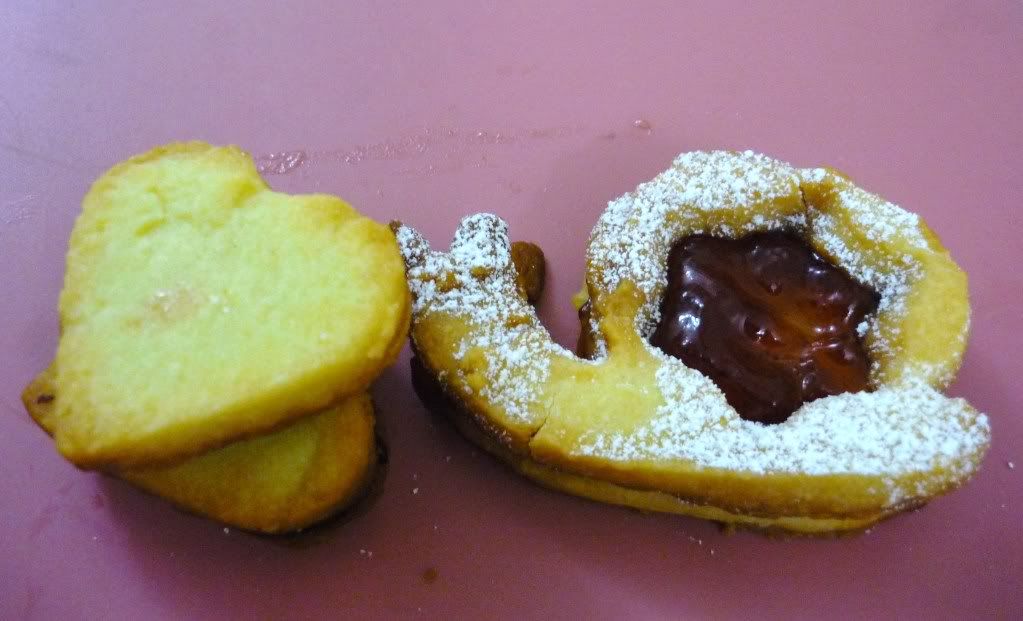 Not as pretty lighting as natural light but ohwell! these are the smalled cut-out hearts I was talking about. Sandwich jam in between and one-bite! its gone(:
Shortbreads with Strawberry
recipe from
Joyofbaking
(I halved the recipe and got about 4 snails and 6-7 hearts + the smaller cut out hearts)
2 cups all-purpose flour
1 cup salted butter, room temperature
1/2 cup powdered (confectioners or icing) sugar
1 teaspoon pure vanilla extract
1/4-1/2 cup strawberry preserves (jam)
In a bowl cream butter with a mixer for about 1 minute. Add sugar and beat until smooth for about 2 minutes. Beat in vanilla extract. Gently fold in flour until incorporated. Flatten into a disk, wrap with cling wrap and chill for at least an hour.
Preheat oven to 350 degreesF or 180 degreesC. On a lightly floured surface roll out dough to about 1/4 inch thick. Using a 2 to 3 inch heart shaped cookie cutter cut out the cookies.
Place the cookies about 1 inch apart on the baking sheet. Using a smaller cutter (3/4-1 inch) cut out the centers of half of the cookies.
Place the unbaked cookies on the sheet in the refridgerator for about 15 minutes. This will firm up the dough so the cookies can maintain the shape when baked.
Bake for 10 mins or until the cookies are lightly browned. Cool on a rack.
Heat preserves in microwave for 15 seconds. Dust the cut-out cookies with confectioner sugar. Spread about 1/4 tsp of jam on the bottom surface of the full cookie.
Place cut-out cookie on top of and gently sandwich together. With a spoon fill the cut out with a little more jam. Yum!