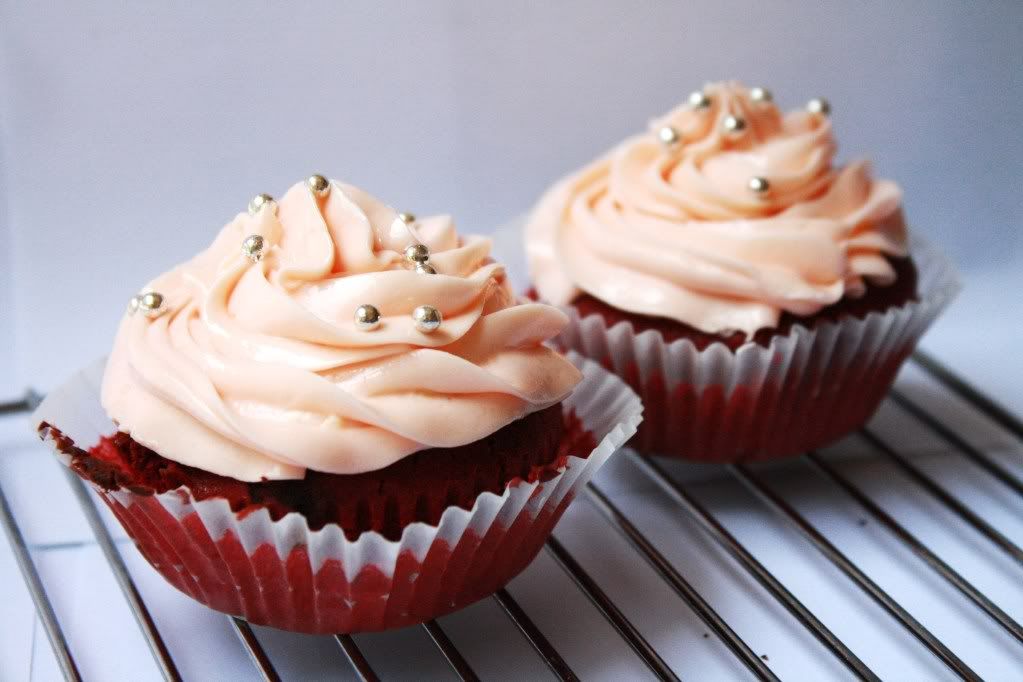 This is the year, the year we all go from the awkward teen years to the in-between twenty year olds and now being grand ol' adults at 21. Okay, not very old actually seeing that with each passing year the numbers will only keep creeping upwards.
The year also brings about parties, get-togethers and more parties. Parties of different themes, settings and ambience. And the fact that all these parties bring people together. Friends of friends, old friends, new friends, aquaintances that now become friends. Six degrees of separation indeed especially within our tiny island. Someone is bound to know somebody else who knows you. Good or bad thing, well I dont know, but at birthday parties I know one thing for sure, the birthday boy/girl, Girl in this case is the happiest of 'em all(: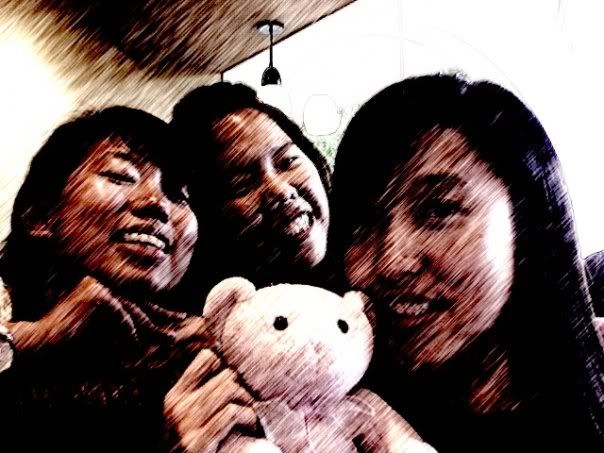 My dear friend of 6 years and counting now, princess sally, turns 21 and ever so aptly, the theme for the day was Pink&Bling. And she was definitely the princess of the day, complete with the tiara, sash and ladies in waiting(;
It was fun to see an entire room filled with pink(s), from baby pink to princess pink to hot pink to pink and glittery.
From the start I knew I wanted to bake her pink cupcakes. Seeing that my dress was definitely bling but definitely
not
pink. To be exact it was dark blue and I tragically don't own anything pink. How that is possible I still don't quite know, and hot pink nails wasn't going to cut it on the pink scale I guessed.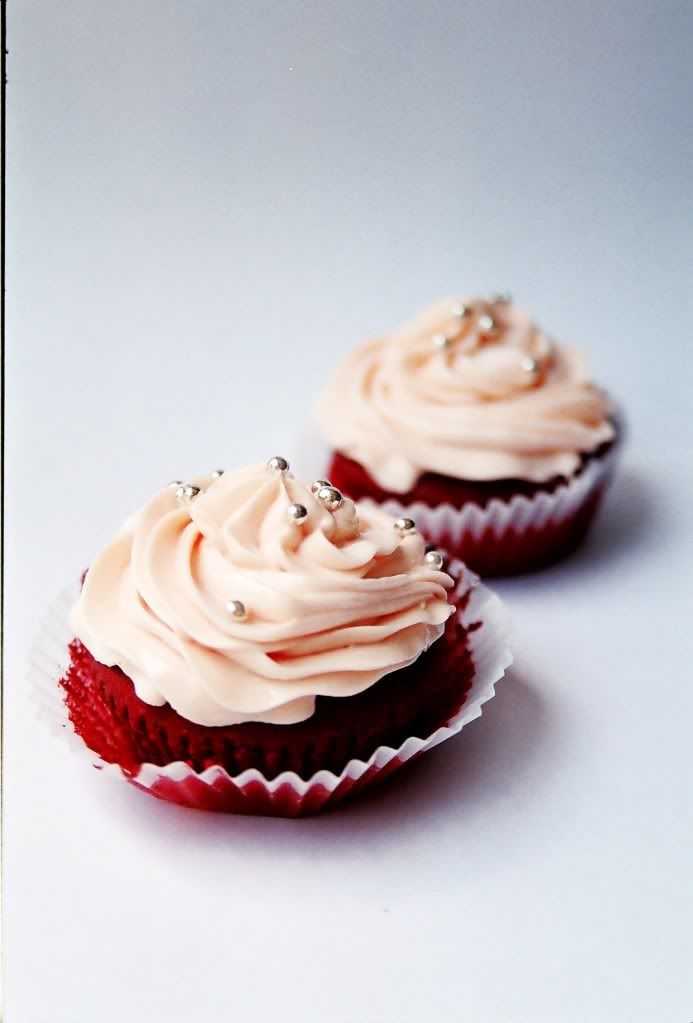 So I hoped the pink&bling cupcakes would make up for it nicely. Funny how the cupcakes were more dressed to the theme than I was but its okay! I had a great time there and best of all my bestie is 21! and oh so very happy.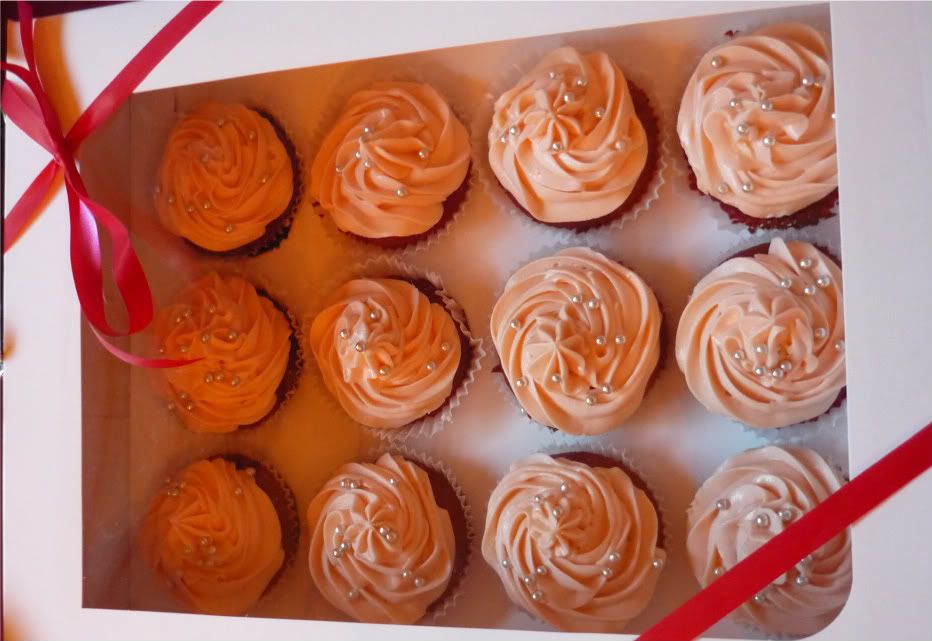 Pink cupcakes means pink icing but that doesnt particularly seem very appetizing and strawberry frosting wont exactly hold well for long hours of not being in the fridge. So pink cream cheese it was, with my new found favourite red velvet cake. Plus, since the theme was bling, I get a chance to use the silver dragees (the small silver ball thingies used to decorate) and are fully edible by the way. The taste, well, its just really hard and has no particular taste, I guess it serves only its decorating purpose.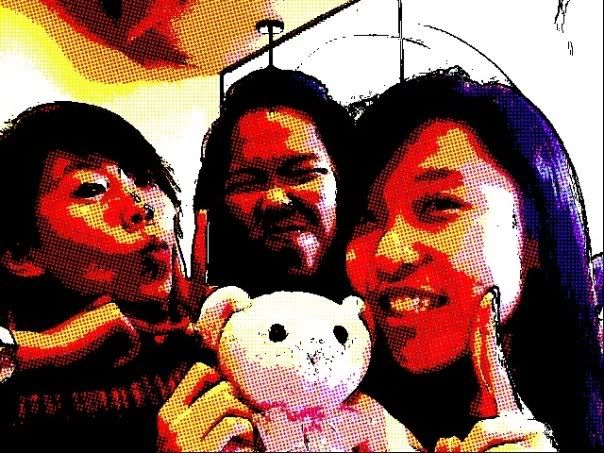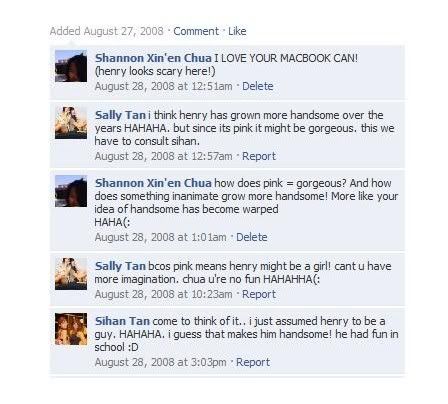 Haha I found this while on facebook saving the above pic. Awesome times we had:D
ps: this, above is how you know you will end up with a pink party, even as of 2008(:
Happy 21st princess sally!
, here's to many more years of friendship to come:D
Although I had to wake up early on sleep-in saturday, it was well worth it and I had quite a bit of fun myself making redvelvet, dyeing white cream cheese pink and frosting rose-tip frosting, and dressing silver dragees. And the cream cheese frosting recipe is indeed one of the better ones that I've used, nice, firm and stiff.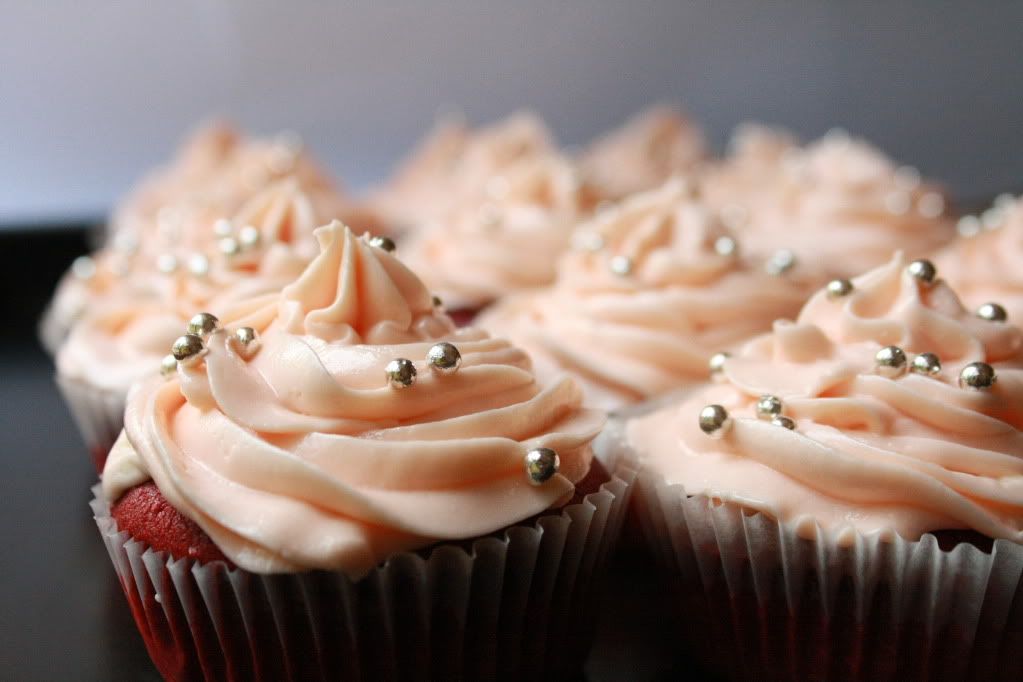 Had another of my dear friends hueyy! come over to take pretty photos of the cupcakes! All the shots taken by her anyway, except the last one which I took with the phone where I realised I didnt have a shot of the finished product hence the pinkish lighting at the party. The film ones were pretty awesome(: Like this,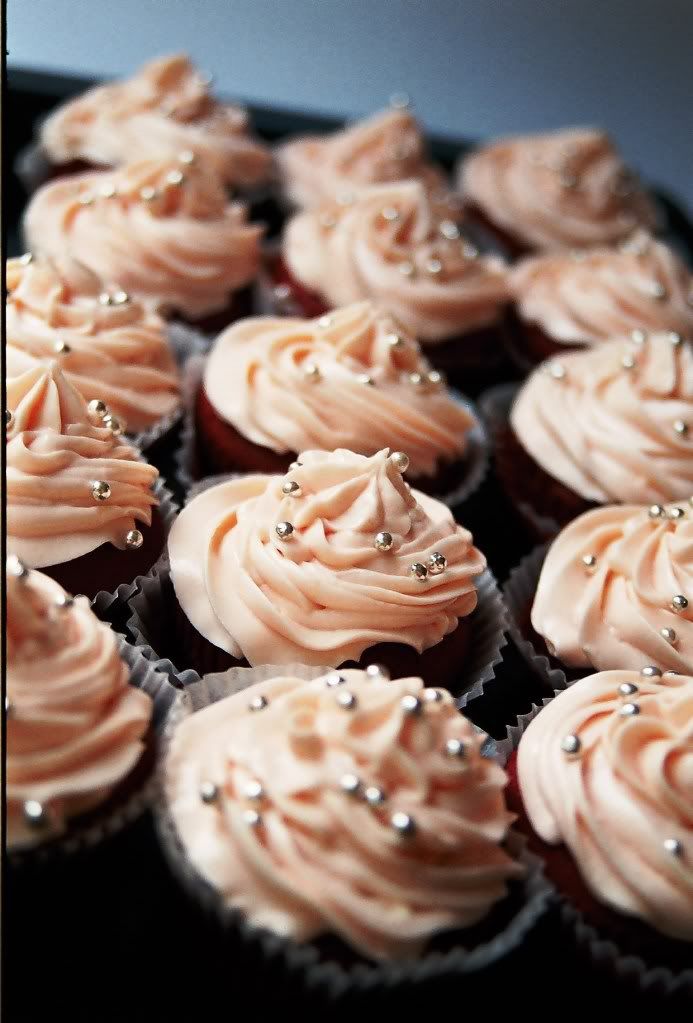 All in all, it was a great day. cupcakes, friends, playing with film, birthdayparty, great company. I'm indeed very blessed.
And here's a cupcake for you!(: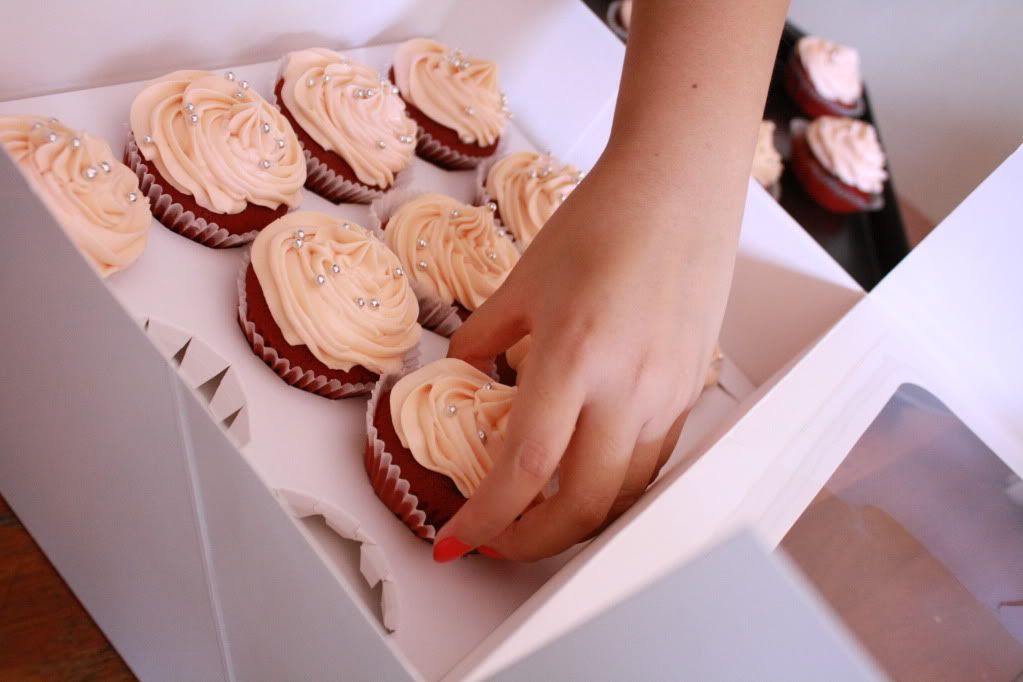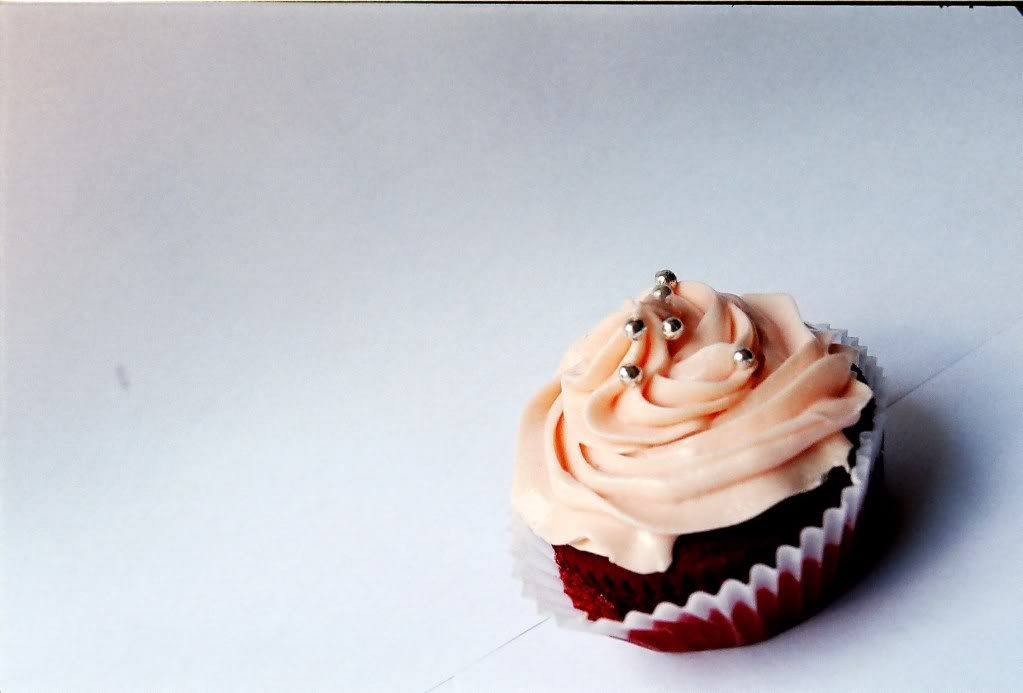 My Favorite Red Velvet Cupcakes from Joythebaker
recipe from Hummingbird Bakery Cookbook
makes one dozen cupcakes, double recipe to make 2 9-inch layer cakes
4 Tablespoons butter, at room temperature
3/4 cup sugar
1 egg
2 1/2 Tablespoons unsweetened cocoa powder
3 Tablespoons red food coloring (I using a dash less)
1/2 teaspoon vanilla extract
1/2 cup buttermilk
1 cup plus 2 Tablespoons all-purpose flour
1/2 teaspoon baking soda
1 1/2 teaspoons distilled white vinegar (I subbed with lemon juice)
In the bowl of a stand mixer fit with a paddle attachment, cream the butter and sugar until light and fluffy, about three minutes. Turn mixer to high and add the egg. Scrape down the bowl and beat until well incorporated.
In a separate bowl mix together cocoa, vanilla and red food coloring to make a thick paste. Add to the batter, mixing thoroughly until completely combined. You may need to stop the mixer to scrape the bottom of the bowl, making sure that all the batter gets color.
Turn mixer to low and slowly add half of the buttermilk. Add half of the flour and mix until combined. Scrape the bowl and repeat the process with the remaining milk and flour. Beat on high until smooth.
Turn mixer to low and add baking soda and white vinegar (lemon). Turn to high and beat a few more minutes.
Spoon batter into a paper lined cupcake baking pan (fill to 2/3 full) and bake for 20-25 minutes or until a skewer inserted into the center cupcake comes out clean.
Let rest in the pan for 10 minutes, then place them of a cooling rack to cool completely before frosting.
Perfect Cream Cheese Frosting (for 2 dozen cupcakes) from
milkandhoneycafe
adapted
from Hummingbird Bakery Recipe, as well as from lucyinaz
1/2 cup (1
stick) salted butter, room temp
5 cups confectioner's sugar, sifted
1 tsp pure vanilla extract
8 oz Philly's Cream Cheese, cold
1. In a mixing bowl, beat butter,
confectioner's sugar, salt and vanilla until combined. At this point, the mix is
going to look really dry and crumbly, but be patient and it will come together,
about 4 minutes.
2. Add cream cheese and mix until well incorporated, about 2 minutes. DON'T
OVERBEAT. Frost as desired